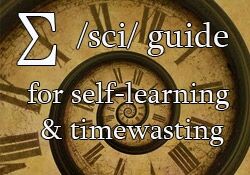 This site is a compilation of free resources for self-learning and general academic life.
It is a distillation of the Internet for the science and math-minded individual
in other words, the last bookmark you will ever need.
Subjects
[
]
Open Problems
[
]
The shortest string containing all permutations of a set.
Links
[
]
This wikia is mostly a partial mirror of the old google site /sci/ guide.
Another /sci/ Wiki exists that focuses more on traditional textbook recommendations.